Written Materials
by Jim Cripps
---
Complete:
Charlie Chan Goes to Pieces (one-man play)
San Francisco at Bay (short)
The Adventures of Izod® (strip)
The Foxes Hunt (strip)
Polo (strip)
Rugger (strip)
Wilson's Biography (strip)
Joel the Golfer (strip)
The School Haunted (short)
Was That the Cat's Meow? (short)
Freefall (super-short)
The Prince of Death (short)
News At Eleven; Crisis At Twelve (short)
Fire in Her Sleep (short)
Solo Soap: Solo Ransom (skit)
London Ravaged: The Morgan LaFay Squad (super-short)
Alexander At Large (short)
What's A Scary Thing (series) (shorts)
Boys Against Law (short)
Trouble On Ice (short)
The Siren (short)
The Dragon [A] (short)
The Dragon [B] (short)
The Gorgon: A Faired-Haired Woman (short)
Sheol (short) (offsite)
Last Wish (short)
John of Scaythaire, esq. (short)
A Bloodletting
Tower of Dreams (screenplay) 1st draft with logline
Death and the Social Worker (sketch) 1st draft
Suspicions of the Male's Preponderance of Predatory Activities (essay) The Tract House Project
Cookie Cleavage (sketch) See it!
Presidential Gaffe (sketch) 1st draft
Beginning of Anime TV in the West (short essay) 1st draft, submitted!
Robert Downey Jr.'s Comeback (short essay) 1st draft, submitted!
Englands Influential Punk History 1971-1980 Sqidoo 'Lens'
Boon To Bust: B&W Comics 1980-1995 Sqidoo 'Lens'
The Most Serene Republic Sqidoo 'Lens'
Lakota 5-0, web comic strip (offsite)
Ill Commute (TV) 1st draft
...
---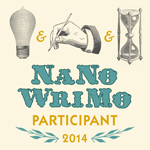 Egad! Undone:
Battlestar Astron (series?)
Man At Large (sequal to San Francisco At Bay) (short)
Tyren (novel)
The Fallen Republic (novel)
A Space Flik (screenplay)
Tulsa Regional Ghostbusters (screenplay)
Quest for Joy: A Paisley Adventure (novella/series)
One
Qita Haree Days: An Early Paisley Adventure
Two (novella)
Three (novella)
MM
Bethelemew the Wanderer (short)
They Played In Terror (short)
Red Carpet Dance (screenplay)
Ark'Hnel (graphic series)
Astray (short/screenplay) offsite
Serpent Tide (novel)
Shukumei (novella/screenplay/comic book) offsite
Twilight/Ascent (novel) offsite
Drink Me (lyrics)
Untitled Satire offsite
Untitled Western offsite
The Wood novelette
Jerry movie script (and logline)
Jerry (novel)/NaNoWriMo
untitled NaNoWriMo novel (vampires, ugh)
secret comic book retrospective comic book
Lakota 5-0 #1 comic book
All the Shining Moments Gone (novel)/NaNoWriMo
Lakota 5-0 Halloween Special comic book
...
---
I have a small portfolio online at Writing.com.
---
Some of the links here will not work until I fix all the code. It's the move, I swear!
---
copyrighted by Jim Cripps 2006–2016